Welcome to CLUBMAIL.VIP - Your new digital identity - VIP email service


Your email address is your first and most important Internet identity for the digital world. The email address identifies you to the entire internet. That is why it is essential to have a differentiating, exclusive and prestigious email address. A correct Internet identity is vital for Companies and for individuals.

We offer an exclusive, private and distinctive email service for everyone that want/need differentiate of the traditional and generalists Gmail(tm), Hotmail(tm), Yahoo(tm), etc. Associated with your email account, we offer you several essential tools for free to facilitate your digital day-to-day life in a private and secure environment.



Our service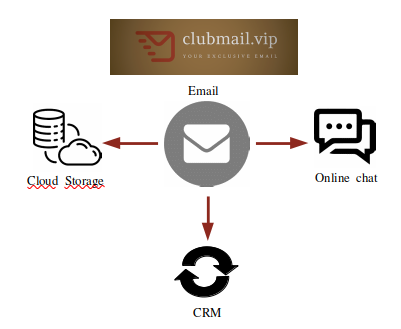 Email





Email service through which you can select your email address and choose from several domains specially reserved for you. With Clubmail.vip you can enhance your digital identity and differentiate from the common email services like Gmail(tm), Hotmail(tm), etc. getting, in addition, a much greater privacy.


| | | | | | | |
| --- | --- | --- | --- | --- | --- | --- |
| @americanrepublic.pro | @digitalmail.vip | @lamoncloa.vip | @madeinholland.vip | @micorreo.digital | @republicademicasa.com | |
| @americamail.club | @exclusivemail.vip | @latinmail.digital | @madeinitaly.vip | @micorreo.vip | @supermail.digital | |
| @chinafree.vip | @greatmail.pro | @macrosoft.pro | @madeinpoland.vip | @onechina.digital | @supermail.monster | |
| @clubmail.vip | @justmarried.vip | @madeineurope.vip | @madeinportugal.vip | @onechina.email | @thisismymail.net | |
| @correodelrey.com | @kontrol-it.com | @madeinfrance.vip | @madeinspain.vip | @palacioreal.vip | @usamail.tech | |
| @czequiamylove.com | @lamoncloa.digital | @madeingermany.vip | @micorreo.club | @polandmylove.com | @usamail.vip | …. And more |

Example: "your name.surname@supermail.digital"

We are continuously adding new domains.

Get your new digital identity with all associated services here for 15€/year (taxes included)




Do you want to personalize your email address with your own domain?. We take care. Perfect for companies and for the most demanding users.

Examples: "your name@your surname.pro"
"your name@your company.com"






Cloud Storage



One place for all your data. Accessible with all your devices. Associated with your email account, you will enjoy a 10Gb storage space, expandable if needed, that you can use to backup, save, work and share the information you need. In this environment (Owncloud) you can create workgroups, calendars, tasks, etc. so that you and your colleagues or friends can make full remote workgroups a reality.








Online Chat - Instant messaging




Associated with your email account, you have access to our Rocket Chat service where you can communicate with your teams or friends in a totally secure environment in a real-time communication, sharing files, videos, audios, real-time chat, audio-conference and video-conference in a multi platform environment (Windows, Mac, Linux, Android, iOS).


CRM




With your email account you have total access to our EspoCRM service where, from your web browser, you can attract new Clients to your Company/Business while satisfying and retaining current Customers.

Sign on your new email account and services here.